Get Loopy in Eastern Idaho: Yellowstone-Grand Teton Loop Itinerary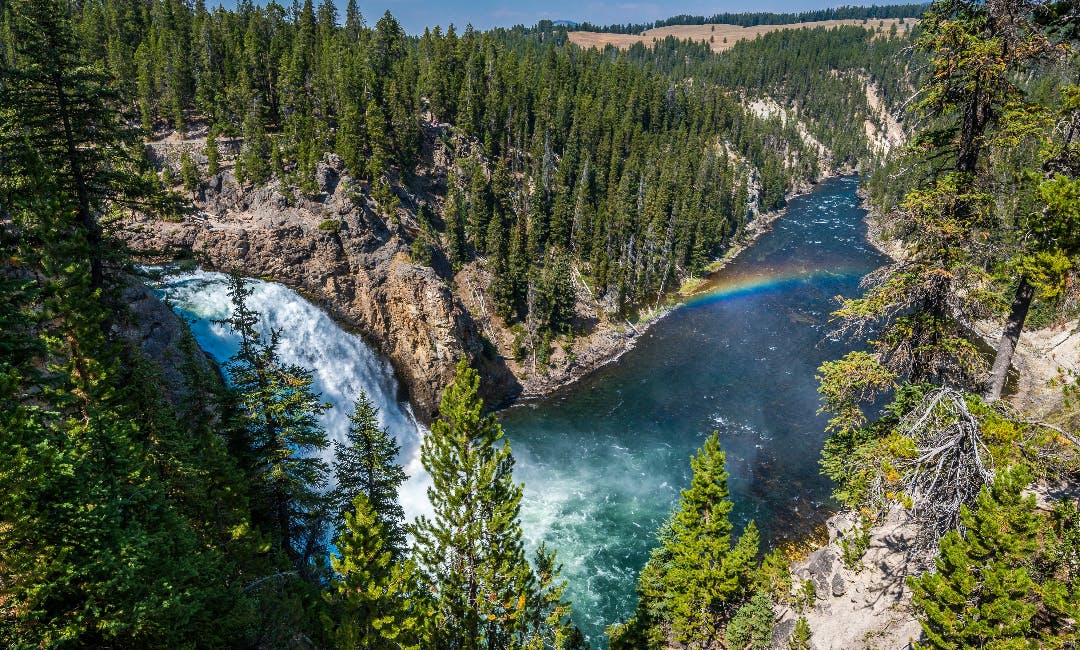 Spanning over 600 miles of Eastern Idaho's most beautiful landscape, the Yellowstone-Grand Teton Loop, beginning and ending in Idaho Falls, is a wild driving experience. Visitors seeking full exposure to the best of Idaho should not miss this epic road trip.
Eastern Idaho's largest metropolis is Idaho Falls
Visitors flying in will land at Idaho Falls Regional Airport  where there is easy access to transportation rentals and hotel accommodations . Several hotels in the area offer free shuttles to and from the airport.
Day One Driving Destination: Rexburg, ID
From IF, head North on I-15, Take the Exit to US-20 N to Rigby, and Take Exit 320 (14.7 miles) –
Rigby to Ririe, ID-48 to E 300 N (9.6 miles) – Ririe to Rexburg, ID-48 to US-20 E (18.8 miles)
The drive from Idaho Falls to Rexburg is a short one. Stop in Rigby, the town recognized as the birthplace of television to visit the Farnsworth TV & Pioneer Museum . Discover how the town earned this accolade before traveling up the road to Ririe where you may soak in the Heise Hot Springs .
Your final stop on day one is Rexburg, Idaho. Ranked as one of the country's safest cities, Rexburg is a great location for family fun.
Day Two Driving Destination: Ashton/Island Park Region
To Ashton, take US-20 E (27.7 miles) – To Mesa Falls, take ID-47 N (15.8 miles) – To Island Park, take ID-47 N to US-20 E (21.2 miles)
In the authentic mountain town of Ashton, stop for an early lunch at Frostop Drive-In  and enjoy a classic cheeseburger-milkshake combo, then grab some loaves of bread at Dave's Jubilee Market  and feed the giant trout in the Warm River.
On the way from Ashton to Island Park, take the Mesa Falls Scenic Byway  (Hwy 47) to the Lower and Upper Mesa Falls . Stay the night in Island Park and experience other highlights before venturing into Yellowstone National Park.
Oh! The sights you'll see ...
Day Three Driving Destination: Yellowstone National Park
To Yellowstone, take US-20 E (28.2 miles), Turn RT on N Canyon St (0.2 miles), Turn left onto US-191 S/US-20 E/US-287 S/Yellowstone Ave (0.5 miles)
Eastern Idaho is the gateway to Yellowstone National Park. Definitely, an experience not to miss, pre-planning your route through the Park is a must. Enter through West Yellowstone , where you can stay the night if you are not staying in the Park itself. 
Day Four Driving Destination: Grand Teton National Park to Jackson, WY
To Jackson, take US-191 S/US-89 S (57.3 miles)
From Yellowstone head South into Grand Teton National Park  on US 287. In addition to taking in the expansive views of the majestic Teton Mountain Range, be sure to visit the sites that the Park is famous for before stopping for the night in Jackson, WY.
Day Five Driving Destination: Rest – Spend the Day in Jackson, WY
Jackson Hole is a true Western town. Walk along the boardwalk of the town square for high-end retail and dining before snapping a photo under the elk antler arches. In the summer, be sure to catch the evening shootout on the Square, a gun drama with a wild West flair.
Day Six Driving Destination: Teton Valley, Idaho
To Teton Valley, take WY-22 W to US-91 S/US-26 W/US-89 SW to WY-22 W to ID-33 W (41.1 miles to Tetonia)
Driving over the Teton Pass from Wyoming into Idaho is an adventure in itself. Hairpin curves and a moose or two will keep all drivers alert. However, once in Teton Valley, the road is less winding and the recreation opportunities  in the Palisades, Big Hole, and Teton Mountain Ranges are incredible. Between Victor, Driggs, and Tetonia, ID there is plenty to do, so plan to stay the night and explore the area.
Day Seven/Eight Driving Destination: Idaho Falls through Swan Valley
To Swan Valley from Victor, ID, US-26 W (21.2 miles) – To Idaho Falls from Swan Valley, US-26 W (43.1 miles)
The drive back to Idaho Falls is through Pine Creek mountain pass. Your first stop is Swan Valley where there are plenty of trails, camping & lodging . Take some time to plan a hike through the Palisades or navigate the Snake River and see Fall Creek Falls .
Your return to Idaho Falls closes the Yellowstone-Grand Teton Loop. Enjoy the sights you did not see when you first arrived and thank you for visiting Eastern Idaho.
For a complete guide to events, destinations, outdoor recreation, and arts & culture, check out Yellowstone Teton Territory's Travel Guides .
Blog Adventures in


Eastern Idaho